Currently on Display: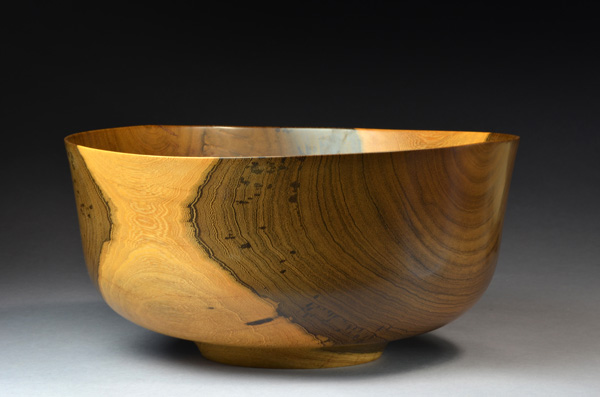 Bringing Hawai'i Home
Recent acquisitions from the collection of
William and Martha Saul
Through May 22, 2016
Hawai'i is home to beautiful woods and many talented woodturners and carvers. This show, comprised of stunning traditional pieces donated by Martha Saul in memory of her husband William, features work by Robert Hamada, Jack Straka, Louise Parks, and Dan De Luz.
PATTERNS
March 6-May 22, 2016

Patterns brings together work from ten countries by 40 established and emerging contemporary artists working in wood. Each artist interpreted the show theme in their own way, and the array of forms and patterns is varied and beautiful, with some artists riffing off the grain of the wood, and others altering the surface with a variety of techniques: incising, charring, sand-blasting, rose-engine work and paint.
The work in this exhibition will be sold in a hybrid live/online auction at the AAW Symposium in Atlanta, Georgia on June 11. Click here to be notified when the auction items are available to view online.
(Shown above: Joshua Salesin, Wave Theory III, cocobolo)
Also on exhibit:
Touch This!
A family-friendly exhibition illustrates how woodturning works, and offers samples of wood to heft, sniff, and admire. Also see a history of turning, and vintage and reproduction lathes from the Viking era to the late 1700s.
Around the Hus
Turned objects in everyday Scandinavian domestic life through
the early 1900s.
Viking-era lathe
by Richard Enstad
Also on display: vintage and reproduction lathes from the Viking era to the late 1700s.
AAW Gallery of Wood Art
222 Landmark Center, 75 5th St W
Saint Paul, MN 55102
Phone: 651-484-9094
E-mail Us

This activity is made possible in part by a grant provided by the Minnesota State Arts Board through an appropriation by the Minnesota State Legislature from the Minnesota arts and cultural heritage fund with money from the vote of the people of Minnesota on November 4, 2008, and a grant from the Wells Fargo Foundation Minnesota..

The website was created with funding provided by the Saint Paul Cultural STAR grant program.

In the News:
American Art Collector features "Creativity in Construction"
Read what the Pioneer Press has to say about our family-friendly "Touch This!" room!
Knight Arts on Art From the Lathe
Paper Darts on woodturning
MPR State of the Arts on The Teapot

About the Gallery

Located in downtown Saint Paul's historic Landmark Center, the Gallery of Wood Art offers an often surprising and always engaging view of contemporary works created in wood.
Although all pieces on exhibit have been at least partially created on a lathe, the diversity of techniques, subjects, materials and ideas of each artist keeps each exhibit fresh and engaging.
The Gallery of Wood Art also features educational exhibits, a display of vintage lathes, and a gallery gift store offering turned items, books and DVDs.
The Gallery of Wood Art is sponsored by the American Association of Woodturners and has received additional assistance from the Saint Paul Cultural STAR program and the Minnesota State Arts Board.
About the American Association of Woodturners
International, non-profit, and now over 15,000 members strong, the American Association of Woodturners is dedicated to the advancement of woodturning, a specialized form of woodworking using the lathe. The AAW has over 325 local chapters in the United States, Canada, Taiwan, and Japan.
To find out more about the AAW, visit their website: www.woodturner.org
Members of the AAW include professionals, amateurs, gallery owners, collectors, and wood and tool suppliers. The AAW publishes American Woodturner, sponsors the world's largest woodturning symposium, hosts an active online member's forum, and provides educational grants, insurance and more to its members. The AAW is dedicated to providing information and support to its members and others through publications, DVDs and more.
The over 300 local chapters of the AAW provide instruction, fellowship and networking for turners at all levels.